So, here I am with this blog. I have put away a few useful posts, a few tips and tricks and waiting for the blog to explode on the scene. And, it may never happen (not as soon as you wish anyway). This is due to the simple fact that users are certainly looking for information, where as they are not finding you. Search engines are intelligent enough to figure out what posts are popular and show the results to other users. That makes the popular posts more popular (hopefully), while others get sidelined or backbench'd on a remote corner.
There are a couple of ways to get out of that situation.
Be active on the blog circuit. Post comments, leave your blog address lying around. This will encourage at least a few to visit your site. If they really like the content, they play their part in spreading the message
Broadcast your post on multiple social media channels to gain attention. This will mean you would have to visit a popular social site like Facebook, Twitter, LinkedIn and so on, and point your post. This will make it easier for friends and your circles to find content that you published. And, it should take off from there
As you would have figured out by now, both are cumbersome to do and take time. But time is better spent creating content rather than circulating it for popularity. So, I started looking for tools that can solve this little problem.
(1) is not easy to solve - unless I trust dubious sites promising back links (references to your posts from somewhere else). So I have to grin and bear it.
(2) was frustrating as well, but the solution was elegant. That is HootSuite.
By using HootSuite, I now can easily publish my posts to multiple social media sites - all in one click, all in one go.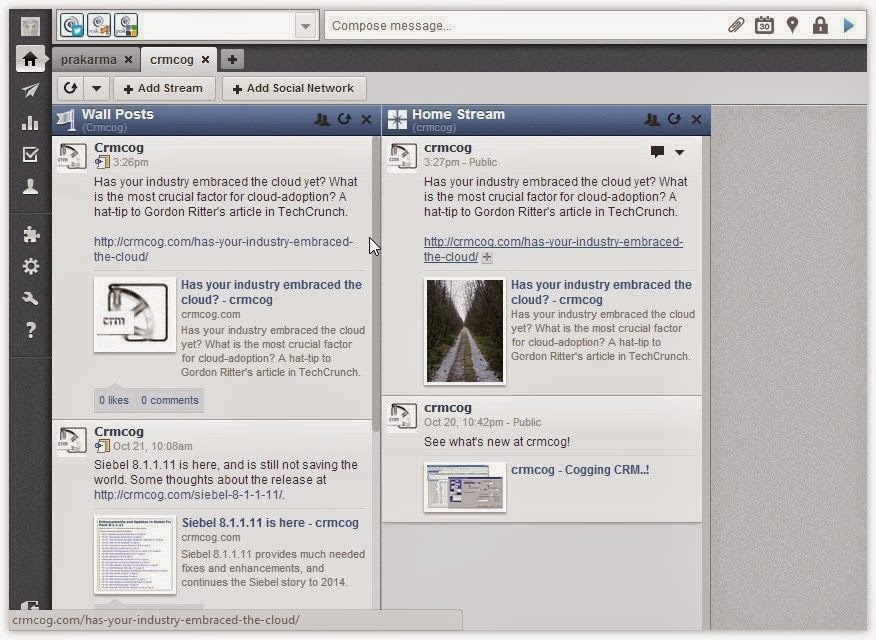 All I need to do is connect to all my social media sites. In the above example, I am connected to Google+, Facebook and Twitter. Enter something that you have to say, provide the link, and click once to post in all sites at once.
Of course you can do more than publish the posts. You can monitor multiple social media sites in one window, start or respond to conversations, and get really good graphs on how popular you are.
You can start in HootSuite for free. The free version allows you to connect to up to 5 social media profiles - that implies that you have covered two ids each for Facebook, and one id each for Google+, Twitter, and LinkedIn.
For more options, connecting to more social profiles, you would need the paid version. You can also do a trial for one month to see whether the tool indeed saves time (and adds value) to your internet life.